Where the F-Type Meets Your Driveway
There's a simple way to make yourself feel at home in a Jaguar.
The 2020 F-Type has a welcoming interior and abundant space for a comfy ride. This year's exterior takes from a powerful mold that was first released in 2013. The creative remake of the vehicle's front grille is worth noting for 2020. The thrust of its 550-horsepower engine is worth test driving. For good reason, we'll soon see this sport coupe on driveways and highways alike. Its fastback design is manufactured in a number of styles to consider right now. At Jaguar South Shore in Crown Point IN, you'll find a range of Jaguar F-Type models to choose from.
New Jaguar F-Type Inventory
Explore the 2020 Jaguar F-Type Near Gary
Two doors, roomy seats and a convertible aren't bad options to start with.
2020's show-room floor presents us with fun features to discover for this sporty coupe. Five dynamic styles for 2020 are what we have listed. Among your personal choices are the Checkered Flag Coupe, the R-Dynamic, your basic Coupe model and the SVR. They're all fast, sealed with a stylish exterior and calibrated for safety and fun.
The Interior and its Technology Leg room and a wide open dash set the stage for a roomy setting. The "grained" leather of the interior sports seats is durable and yet supple. Its various suedecloth facings add to the soft feel on your hands and forearms. Get even more out of your music with a built-in Meridian system as your audio output.
The basic mold of each seat takes on the "bucket design." Additional stitching is placed into the back and thigh areas, which results in indentations that grip to your body. This creates a deeper seating as you drive. A space is cut out right behind your neck, which allows air to pass through and sustain a refreshing flow.
The headrest is made with layers of leather and synthetics blended together. Touch Pro is what powers the infotainment center console, which is projected through a 10-inch monitor at the dash. The car's safety features are also accessed here.
A Few Safety Features to Note The 2020's Stolen Vehicle Locator is one of the most unique preinstalled safety features. This system automatically activates, which enables law enforcement to track a stolen vehicle via GPS. Your daily safety tools are under Driver Assistance Features. These consist of Driver Condition Monitor, Lane Keep Assist, Rear Traffic Monitor and Traffic Sign Recognition. You have these no matter which F-Type you drive home with.
The seats even have sensors to determine the weight and dimensions of you or any passengers. The measurements are used to calibrate automated seat-belt tensioners. Through the Supplementary Restraint System, you get a smart safety system with air bags at the frontend and the side rails of the vehicle.
Your Trim Options
The Checkered Flag Coupe Racing is the theme of this model, for it holds checkered patterns in the rear and front interior assemblies. The seat belts are even a racy red with floor mats checkered for effect. In keeping this daring theme alive, bright red brake calipers peak from behind 20-inch rims. The wheels come glossed in black with a split-spoke style.
The R-Dynamic The rear-wheel drive of this model sets a different stage to perform with.
You'll quickly notice its sleek, professional color options from the start. These dark and light grays are matched with black interior finishes. The center console of the R-Dynamic is formed in delta-aluminum along with its tread plates. The name of this F-Type sub-model comes from the "dynamic option" it gives you to switch between active and inactive sports exhausts.
The Convertible at Your Command
The hardtop, retractable roof of this model goes away at the touch of a button. The lines of the 2020 convertible were adjusted to make the car look natural when the top is down. The vehicle's appearance is how the body was intended to look without a roof.
Your color options, engine specs and mileage remain the same.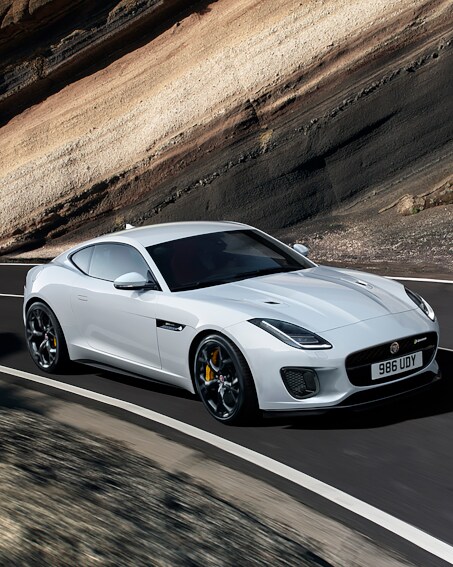 Performance
All base models have a 4-cylinder automatic engine that does more than neatly fit inside. Its thrust is generated from 2.0-liter chambers that ramp up air and fuel through a turbocharger. Taking things slow was not the intent of this manufacturer. This is why it helps to quickly reveal your engine upgrade by adding two more cylinders to your potential package. That V-6 stores an explosive push of 340 horsepower, which revs through a single gas pedal.
An automatic engine eliminates the complications of shifting gears. Now what was turbocharged through 2.0 liters is "supercharged" in this V-6 engine block. It helps that the F-Type comes with a gas tank holding up to 18.5 gallons of premium fuel.
One Step Up in Performance and Power
For those who absolutely need more power behind the wheel, there's one more step up in engine performance. The F-Type now rates among the fastest cars for public roads. Find your greatest potential of speed through Jaguar's 5.0-liter monster of an engine. The engineering of this all-wheel-drive block fits in the same car body.
The immediate difference you get is an improved zero to 60 mph time of just 3.9 secnds. With 550 horsepower, your speed hits 186 miles per hour-fast.
Visit Our Dealership Today!
Check out the 2020 Jaguar F-Type at our dealership serving Hammond and Merrillville, IN today! We'll give you the convertible you need to impress through Tinley Park, or the sports coupe you want to dominate Schererville.