New 2020 Jaguar XF Research Page
The 2020 Jaguar XF includes a great warranty. It's a luxurious, sporty, mid-size sedan. Some standard features include a 17-speaker system, Wi-Fi, ventilated front seats, heated rear seats, powered trunk lid, and self-parking.
New Jaguar XF Inventory
Sorry, no items matching your request were found.
Reset Search
Specifications
The two turbo options for the engine are 30t and 25t. The supercharged version boasts 380 hp. The base 25t version offers 247 hp, and the 30t version has 296 hp. The XF has a V-6 engine and an eight-speed automatic transmission. Four-wheel drive is available and rear-wheel drive is standard.
The Jaguar XF 2020 also has a sportier version available-the wagon all-wheel-drive version is known as Sportbrake. Some drivers prefer a quiet cabin to reduce road noise as much as possible. If that's the case, you can opt for the quiet but less powerful four-cylinder engine. The XF has a 19.5 fuel tank capacity. You can expect 25 mpg mileage in the city, 34 mpg on the highway, and 28 mpg combined. The mid-level performance V-6 engine reaches 60 mph in 6.4 seconds.
Performance
The XF has a braking distance of 180 feet. It has low effort steering and the ability to reach a top speed of 121 mph and 5,500 max rpm. The transmission is an eight-speed ZF 8HP45. The XF was created to be powered by premium unleaded gas.
Jaguar Design
The 2020 version of the XF brings new colors to the table. It's available in the new colors Eiger grey and Portofino Blue. This keyless start sedan has heated front seats and steering wheel. In the standard version, the upholstery is made of smooth, synthetic leather. The 2020 Jaguar XF trunk volume is 19.1 cubic feet and 17.8 cubic feet with a spare in the trunk.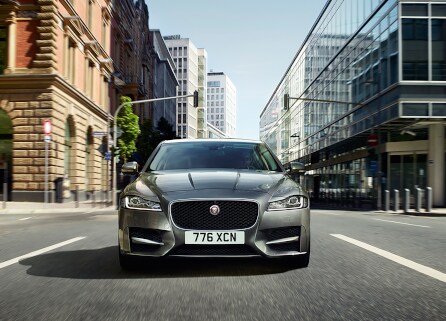 The Sportbrake version offers 31.7 cubic feet of space that increases to 69.7 with the rear seats folded down. The trim levels are Sportbrake, Prestige, Premium, Checkered Flag, and S Trim levels. The Checkered Flag trim includes real leather upholstery. The Sportbrake version includes a powered sunroof. The full variety of paint colors are Caesium Blue Metallic, Santorini Black Metallic, Carpathian Grey Premium Metallic, and Firenze Red Metallic.
The Jaguar has an extensive heritage, it's a beautifully styled vehicle that will always be cherished. as time moves forward Jaguar models become Classic Heritage pieces with unrivaled class and distinction. Jaguars are known for their stunningly aesthetic visuals and for possessing the most groundbreaking technology available. with the release of every new Jaguar, history is made Regarding safety, the Jaguar XF includes optional blind-spot warning technology.
The Jaguar XF promises a luxurious, engaging ride with responsive steering and adaptive cruise control. Other technology features include lane-keeping assistance and blind-spot monitoring. The Jaguar XF 2020 comes with many new additions including color options and new trim. The XF is one of the most refreshingly styled and comfortable vehicles this year has to offer. The XF is taller than the XE at 57.4 inches-the XE is 56.1 inches. The wheelbase on the XF is 116.5, also larger than the XE. The XF also has a new pair of headlights adorning the front of the vehicle.
Technology
In the interior, you'll see a 10-inch touchscreen with Bluetooth connectivity, Android Auto, and Apple CarPlay. Parking sensor technology is installed in the rear and the front of the vehicle. Plus, there's a built-in single USB port in case you need to charge or power a device on the go. The XF offers climate control across two zones, cruise control, and a 360-degree camera system.
The Jaguar XF 2020 is not your average family car. It competes with comparable series of luxury vehicles. Expect a beautifully styled interior. Access mobile apps through the infotainment screen such as WhatsApp, Spotify, and Waze. Some features on the screen are accessible through voice control. It's simple for anyone to connect their phone to the system via the USB outlet.
Jaguar focused on improving quality perception in the XF model by adding a second central screen. The new 2020 Jaguar XF has experienced a host of changes to make it an even more superb vehicle. This is a significantly powerful car with 247 horsepower and 269 lb-ft of torque.
Jaguar has a mixture of substances style that cannot be recreated in other vehicles. It's a dynamic car with a refined and seductive design. It was certainly created with comfort and thrill in mind. New Jaguar vehicles include Jaguar Elite care providing the best coverage available for luxury vehicles. More information is available from your retailer about Jaguar Elite care coverage as well as maintenance coverage and the new vehicle limited warranty.
Jaguar may move towards electric vehicles and sports utility vehicles in the future. But for now, the Jaguar XF 2020 provides a lovely and highly engaging Drive. Families can upgrade to the Jaguar XF Sportbrake which adds comfort and convenience on any adventure to Tinley Park, IL.
The Jaguar XF Sportbrake is a bit different because it can seat up to five passengers and has an incredible amount of space to store your cargo for your band's next gig, luggage, or a fishing trip. No matter where you go or what you decide to do you will have a world-class ride. Jaguar enthusiasts are excited about the performance and power that the 2020 Jaguar XF provides. Jaguars aren't just practical they're fun.
Visit Jaguar South Shore Today!
If you're in Schererville or Gary, make your way to Jaguar South Shore here in Crown Point, IN.  Our team is here to show you our new 2020 Jaguar XF inventory and get you behind the wheel in no time. Merrillville and Hammond, IN customers can also get approved here at our finance center as well. Contact us to learn more about our models and offers today.