Customer Testimonials
Below are recent reviews from Jaguar South Shore customers. As you can tell from our feedback, ensuring a positive customer experience is one a top priority.
Browse the feedback below and plan a visit to the dealership today to find out why we get the positive feedback we do.
Already visited us? Leave us a review and let others know how your buying experience was with us.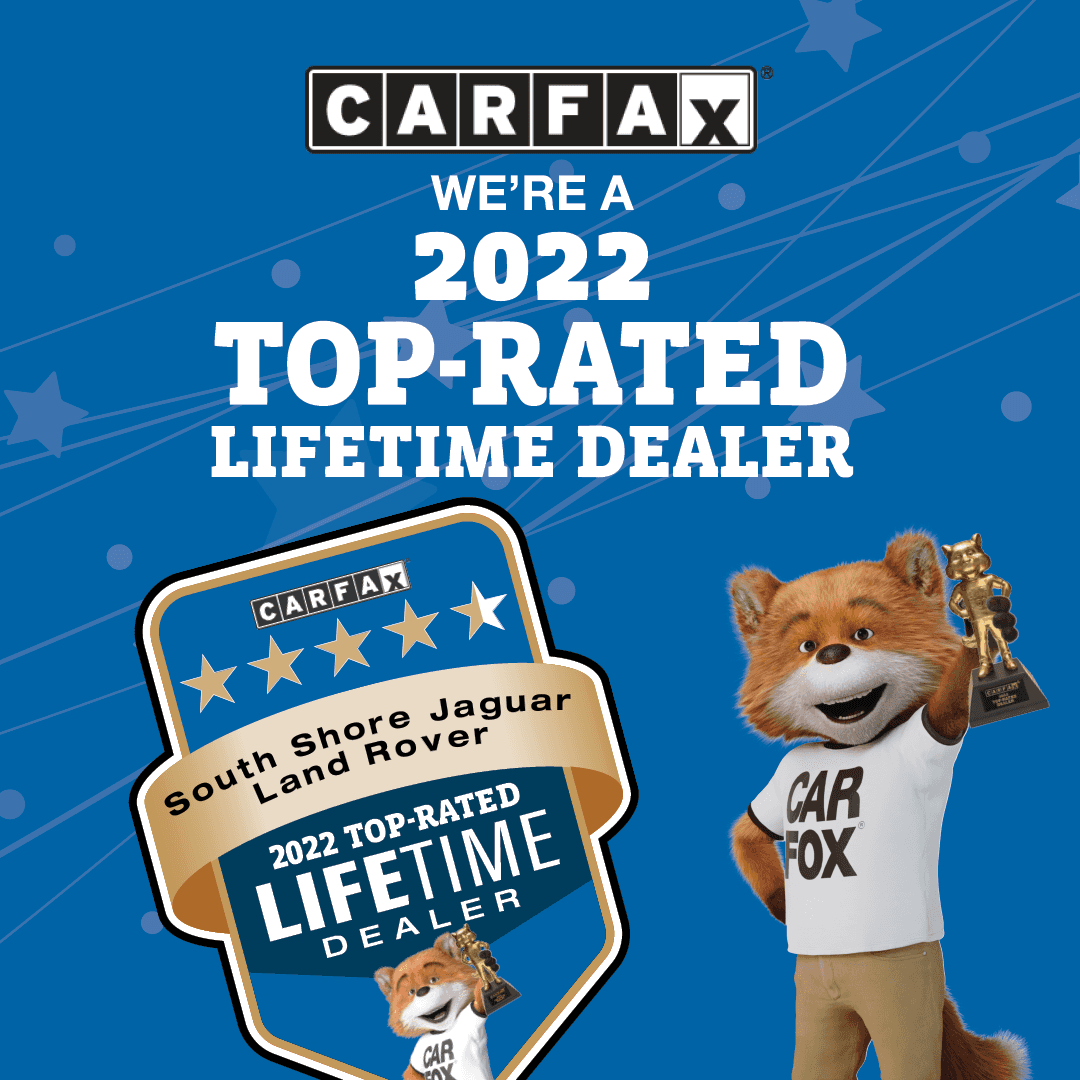 Jaguar South Shore is proud to be a 2022 Carfax Top Rated Limetime Dealer!
Easy, convenient and very friendly staff.
I purchased a vehicle from this dealer and loved it. The salesperson, Tabatha was awesome. But I later find an issue with my purchase. After contacting Tabatha and Jack, we were able to come up with a solution that worked for both parties. The team at SJLR turned what was about to because a very negative experience into one that was a complete180. Thanks SJLR.
Courteous, professional engagement with all staff. I was especially impressed with Luis, my sales person. He answered all my concerns through the purchase of my vehicle.
Mike K & Rick made my buying experience great. I purchased a beautiful Jaguar from this dealership and I couldn't be happier with everything from the buying experience to the perks given after purchase. These guys are solid & I'd recommend to anyone.
I do apologize for not writing this review earlier. I had purchased a certified used Discovery last year to surprise my wife. The whole staff were very helpful and were nice enough to assist me in surprising my wife. They had the car covered with a bow in the showroom and made a sign for my wife congratulating her on her new car. They even had her favorite music playing (Jimmy Buffett) and recorded the whole event for me. Thanks again for making this happen for me. The car is a gem. T
I didn't purchase my Range rover from this location, however this dealership has given me the best customer service that I've received from Range Rover! Orland park location was very rude and made me never want to return. Salesman Kenny at the South Shore location set up my service appointment and the service team treated me very nicely! I got my breaks done, and they even updated my software that gave my dashboard the COOLEST new look! I love this place and i will be back!
Tabatha was great to help me with my out of state Range Rover purchase.I really didn't need to be there in person. She sent me videos of my car and followed up with me after purchasing. The arrangement for delivery of the car was also taken care of. My experience with her as well as the dealership was awesome!
Just want to give a shout out to my good friend Laura! A+ service! I don't live close to South Shore LR... I told her exactly what I was looking for! We did a credit app online and boom! She made it happen! Was there the following morning to test drive sign the paperwork! In and out within the hour! Great job you guys!
Scoop up a car for my daughter & Laura was fantastic!! Top notch and this will now be my car home.
Go see Tabatha. My wife and I just bought a really cool Defender from her. She was fantastic! Everyone there combined to make it a really special buying experience.
The absolute best buying experience I have ever had! Period!
Great experience with our new Defender! Friendly, nice, and always in communication. Thanks again!
Just bought a RR from this dealer with Tabatha, she was very nice, responsive and attentive. I was very happy with my purchase and customer service!!
Tabatha was the ABSOLUTE BEST! Will be back 100% to see her!
Great service, friendly staff
Kenny was awesome. Car was excellent condition. Staff treated us well. The 2 and half hour drive was worth it. They detailed the car afterwards and filled the tank up. We will be back to purchase another car from this dealership!
This place is great everyone was so helpful and making a great decision on picking my Jeep thanks Kenny, and Jack and Brandon for your service
Gabby and the Service MGR went above and beyond to make my last service visit in September an enjoyable one. Thank you for your kindness and honesty.
As always, the experience with your service department was outstanding. Gabby was awesome as usual and everything was smooth as silk. Thanks for the great service and an unbelievable automobile in the Land Rover Defender.
I bought a used BMW from Laura D…the entire process was great and easy. She was tremendously responsive, patiently answered all my questions, sent videos of the car as I was purchasing remotely, worked with me on the price and most impressive of all, she delivered the car to me on her day off! Great customer service. As I didn't get to see the car in person before she drove it out, I moved forward with the transaction based on Laura's word and my trust in her and the car was exactly as she described. There was ...
Very knowledgeable group, they understand customer service is key and making sure the client understands any repair needs before signing off and proceeding. Megan Keller was great and made the process painless. Thank you.
Upfront and efficient. All staff was pleasant to work with.
I was referred to this dealership by my friend. As I walked in I was greeted by a female named Laura very pleasant n helpful. She made the buying process fast n easy with my new vehicle. I later referred two of my cousins who also purchased both of their vehicles from her. Yesterday I referred my friend to her for a range rover sport he is interested in. Thanks 🙏 again Laura you have my business now and going forward in the future.
Gabby was wonderful! Attentive and helpful.
One of the best experiences I've ever had purchasing/leasing a vehicle. Due to a busy work schedule working 2 jobs, I knew I had no time going to dealerships working a deal out . I found the suv I was looking for at this dealership. Let me tell you everything was done over the phone and made me life easy . Everyone there from the assistant manager(Jack) , the salesman(Luis ) , the finance manager (Rick ) and manning were amazing. Jack was amazing from day one whenever I first contacted the dealership. I can tell his leads by example and works hard ...
Awesome experience! They worked around the clock to take care of us. We've purchased many vehicles, but the experience with this dealership by far exceeded all previous encounters!
Bought our second land rover here...great experience...great vehicle
Great shopping/buying experience. Jordan Bibbs is a phenomenal Land Rover salesman. It was absolutely refreshing to talk to a real enthusiast of the brand, and someone so knowledgeable about Defender 90's. He didn't push you into something more expensive, and knew every option/spec without saying he had to ask the service department. 100% impressed and I will be sending every client of mine to Jordan for their Land Rovers.
Great quality, service and price. Made the car buying experience pleasurable. Would buy again from them no questions asked.
The team did a great job and kept us up to date with the parts backorders. Not their fault that it took forever to get the parts in.
Talking about the best service I've ever experience,Tabatha made it a pleasant and wonderful car buying experience. I couldn't ask for more she checked on me after even purchasing the car days later to see was everything ok. I would recommend any and everyone. Thanks Tabatha and Rich
Tabatha was amazing! She did a great job helping us decide on my car!
Employees were very friendly and welcoming. Nice atmosphere. Prices on used vehicles were a little inflated.
Laura Dominici took such good care of me. So did her gm jack p. They got me an amazing deal on a lovely BMW. So excited thank you guys!
Excellent service. We are from Florida, but we where traveling around when the check engine came on on our Discovery. They were very friendly and professional and solved our issue very quickly
Jack Pearson in finance was wonderful and very polite. Jordan Bibbs in sales was equally a pleasure to work with. The sale price for my vehicle was fair and upon walking in I was politely greeted by staff. There was absolutely zero pressure to purchase, to the point where I didn't even need to think about my decision for long. I recommend this dealership with sincerity. My experience may be biased, but it was a good experience nonetheless.
Tabatha helped me get into my Rover! The dealership has great customer service and made this such an easy going process. Thank you to Tabatha and the rest of the team!
Great experience my sales executive Tabatha was very helpful and informative I'll definitely recommend this place to anyone who is interested in a vehicle
I was very pleased with my entire purchase process at JLR Southshore. Mike as a salesperson was very attentive and patient with me as I educated myself better with the LR product line.
Tabatha was absolutely fantastic! Everyone at Southshore Jaguar was so helpful and made the deal right! Highly recommended
Tabitha was wonderful! After a very stressful day she made buying a new car easy and painless. After looking at a few cars she recommended some other cars for me to test drive, very similar to what I was looking at. She seemed very knowledgeable and was super friendly. I hope I don't have to buy another car for a minute, but if I did, I would go back to her.
South Shore Land Rover and Laura made our car buying experience great. They made us feel like we were valued customers. Laura was very pleasant to work with, she and her team were all very hospitable and made the whole process go smoothly. We felt like we were joining a Land Rover family not being sold, and that means a lot to us. They have earned our business for life.
Best dealership in Chicagoland. Friendly and professional customer service. Staff will go above and beyond to make sure you have a great experience!
This is THE place to go if you're on the market for a new vehicle! The customer service is unmatched and everyone is always willing to help and won't hesitate to answer whatever questions you may have. Specifically had a great experience with Jordan. I will definitely recommend this dealership to anyone I know that's on the market for a new car!
love south shore JLR, great team over there
Love this dealership, the hospitality was amazing, the salesman Luis was nothing but great and made my search so easy. Let's not talk about the fast processing BLEW MY MIND!!!!
Great service Brandon in Crown Point !!
Nice people to do business with !
Incredible service and v friendly staff! Highly recommended dealership
If you are looking for a new vehicle and great people to help you this is the place to go! From the wide variety of vehicles to choose from to the friendliness of all the employees. Charles Brakebill for example went above and beyond to help me get all the information that I needed to feel comfortable about the whole process. Through his determination and kindness he was able to help me to get closer to acquiring my future dream car! You won't be sorry for choosing Jaguar Land Rover Southshore to help you with all of your needs!
Just had a great experience dealing with Charles at JLR! Would definitely recommend working with this professional sales staff! Made it smooth and Easy.
Tabatha was great! Will definitely be back.
Great team, nothing is to much to ask! Would recommend to anyone looking for a new JLR.
Amazing experience with Tabatha. Thank you Tabatha.
Amazing experience with Tabatha. Definitely the perfect person to go to when wanting a new vehicle.
One of the BEST Dealerships I ever worked for. Proud to be a team member here at Jaguar Land Rover South Shore. Our Dealer Principal treats us with the upmost respect, Management is big on self development, and I wouldn't be where I'm at today without them. Thank you Jack, Jim, and Chris for all you do. We go above and beyond to serve our clients at the highest level, and this is because we are treated the same way. Don't hesitate to bring your car in for either service, we have the best service advisors on ...
Tabatha was a great consultant and went out of her way to to make a fair deal much appreciated service
purchased a range rover approx 2 mos ago as an out of state purchase. we had an unpredictable issue w the car on delivery. the manager and staff handled everything remotely including interfacing w our local dealership to quickly handle the issue. they could have easily walked away, but they decided to own the experience and help us in every way possible. much appreciated and i hope this review will help jack and his team.
Easily the best car buying experience ever. After reviewing the existing inventories of several area Jaguar dealers, I decided to build my own. I worked with Jordan Bibbs at South Shore. He walked me thru the various options and made sure I had all of the information to build my dream car. After the order, Jordan kept me up to date on the progress of the build right up to it's delivery at the dealership. And he followed up after he sale to answer any questions and make sure the car met my expectations.
The whole experience from start to finish was thorough, engaging, knowledgeable, and to the point. Extremely friendly and we purchased our vehicle out of state needing it delivered. It arrived a day earlier than expected and the entire process was seamless. Hands down our best experience in purchasing our Range Rover and we have purchased a lot of vehicles throughout the years. Go check these guys out! Also, want to give a shout out to their tech contact for being top notch and so easy to work with getting the app setup!
Merriville Jaguar Land rover is the best service I have ever experienced. Not a joke my experience with them servicing me vehicle was nothing short of superb. Bottom line you get what pay for. Excellence!!!!!!
If anyone decides to acquire a car from Land rover South Shore, they will not be disappointed. The staff is excellent, and the general communication is excellent. Brendan and Megan are wonderful employees who answered all of my inquiries when I needed them. Sam from the service department was very courteous and helpful when I had questions regarding my vehicle. I would recommend anyone seeking to buy a vehicle to visit Land rover- Jaguar in Crown Point, Indiana.
The experience at Land Rover South Shore was surely amazing! Never have I ever had such great customer service when purchasing a vehicle! From general manager Jack Pearson, to Michael Kopack, and Rick in Finance - the service was top tier! I would surely recommend Jaguar Land Rover South Shore to any and all! The team surely made my dreams come true in purchasing my dream vehicle! Their expertise was spot on, they had the vehicle I wanted out of all Land Rover dealerships, and only 3.5 hours of my time was surely applauding...the only thing missing was the champagne 🙂 ...
Above and beyond service from start to finish. Toby Chen was fantastic. No high pressure feelings ever and we were welcomed every time we visited as we searched for the ideal car. Highly recommend, very professional staff that do their best to understand your needs. Amazing experience, definitely worth the drive from Chicago!
Great customer service! And I love my vehicle
Nice people work seems to be fine just very expensive
My sales guy Kenny was very polite and professional. Brendan in the service department was a breath of fresh air. He's always smiling and very polite.
Best sales staff and management staff anyone in Chicago area please call them ask for my guy jack he's the general manager or Toby best salesman there seriously check out this place
My wife and I purchased our car here at Jaguar Land Rover recently. We met with Charles who was very helpful and timely throughout the purchasing process. After our long drive home, we noticed there was an issue with the vehicle that we hadn't noticed during our walk around at the dealership. I called up Chris, the sales manager, and he was incredibly helpful in providing a solution to the issue. From my experience, the team at Jaguar Land Rover are great to work with, honest, and true to their word. I would recommend them to anyone.
Gabby was excellent. She was intentional In her actions and made sure that my needs were met and checked in with me throughout the entire process. She even went as far as to check on me after my vehicle was returned. I appreciate her and the service provided.
Jordan was awesome, I was an internet buyer and he kept me informed throughout the process and made it a great experience!
Couldn't say more about the staff at South Shore. Laura, Jack, and Jim went above and beyond in helping me with my purchase and made everything as smooth as possible w/ no pressure and answered any and all of my questions. One of the rare, good dealers in NW IN.
Had an exceptional buying experience.
Customer centered and focused! They provide excellent customer service from initial inquiry to purchase. I am confident they will continue to show excellent service and care throughout my ownership as well! Jordan B (salesperson) was awesome! Mr. Tandy (financial) was amazing as well - personable, tons of fun, kept it real, and provided fair options! They understand you're buying a luxury car and treat you accordingly!
---