Jaguar | In-Car Technology Just For You
Intelligent. Intuitive. Tech-Savvy. These are just some of the words car enthusiasts have used to describe Jaguar for nearly a century! You need to check out Jaguar South Shore's diverse lineup that boasts advanced infotainment, high-end sound systems, and robust safety features. A perfect blend of stylish, luxurious amenities and power – any thrill-seeker will appreciate this agile car that's both fast and fun to drive. If you're like most drivers in the Crown Point, IN area, you're doing your homework and comparing Jaguar with other brands. We encourage you to learn more to better understand why Jaguar has stood the test of time from building its first car in the 1920s to becoming one of the most renowned British manufacturers ever known. We could name a hundred reasons why Jaguar should be at the top of your list when considering a new car, but we've narrowed them down to a core few for you below.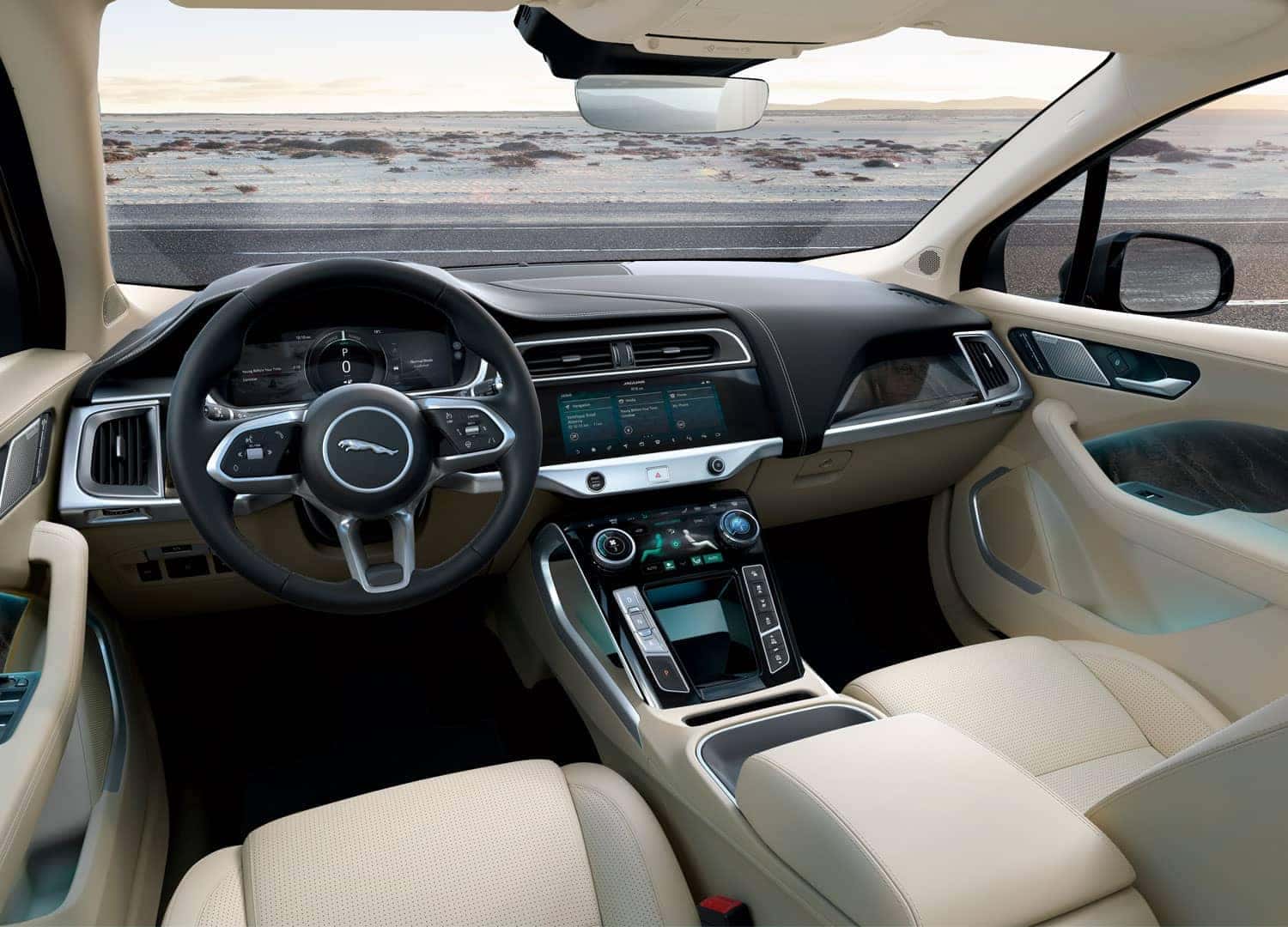 Connect Like a Pro
If you want to be in control of your in-car environment, you will fall in love with our InTouch technologies- our most advanced multimedia system yet! Imagine being able to seamlessly control all of your Jaguar's media, from the quickest route to your favorite song, with the swipe of a finger. Featuring an 8 or 10-inch touchscreen, depending on if you select Touch or Touch Pro, you will always be able to view the information you need, connect easily to apps, and use voice recognition to keep your hands safely on the wheel. You can even control an all-new navigation system with 2D or 3D maps and pinch to zoom map interaction, car temperature, music selection, and settings.
And if you're looking to entertain your family in the back of your Jaguar, have no fear! With two 8 or 10-inch screens located in the rear of the front headrests, you can expect comfortable, quiet passengers that have access to their headphones and remotes during any ride.
Focus On the Road
When you need to keep your eyes on the road, the Jaguar's Head-Up Display comes in handy and offers you relevant information right onto the windshield! Keep your eyes focused ahead while still seeing your speed, gear position, and route through the full-color projection.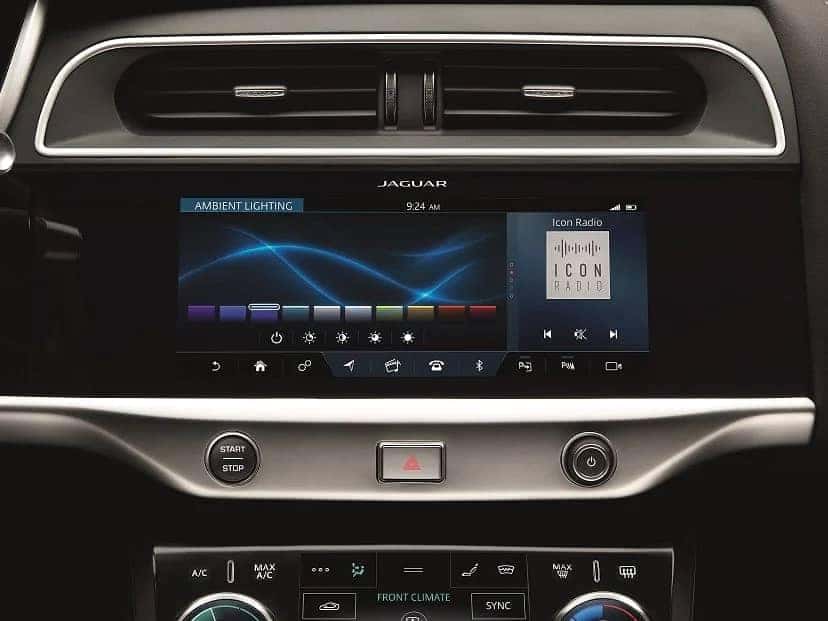 Dual Touchscreen Display
When you have a co-pilot, you may each want to view different information on the same Touchscreen. With Dual Touchscreen capability, a driver and passenger can easily view different content on the same screen. The result? Everyone's happy.
Stay Connected
If you want to stay connected with your Jaguar no matter where you roam, you'll enjoy the InControl Remote™. Through a smartphone app, you can control your vehicle's climate, lock and unlock the doors, check lights and fuel, and start the car from anywhere in the world! You can even access the Stolen Vehicle Locator to help police recover your car.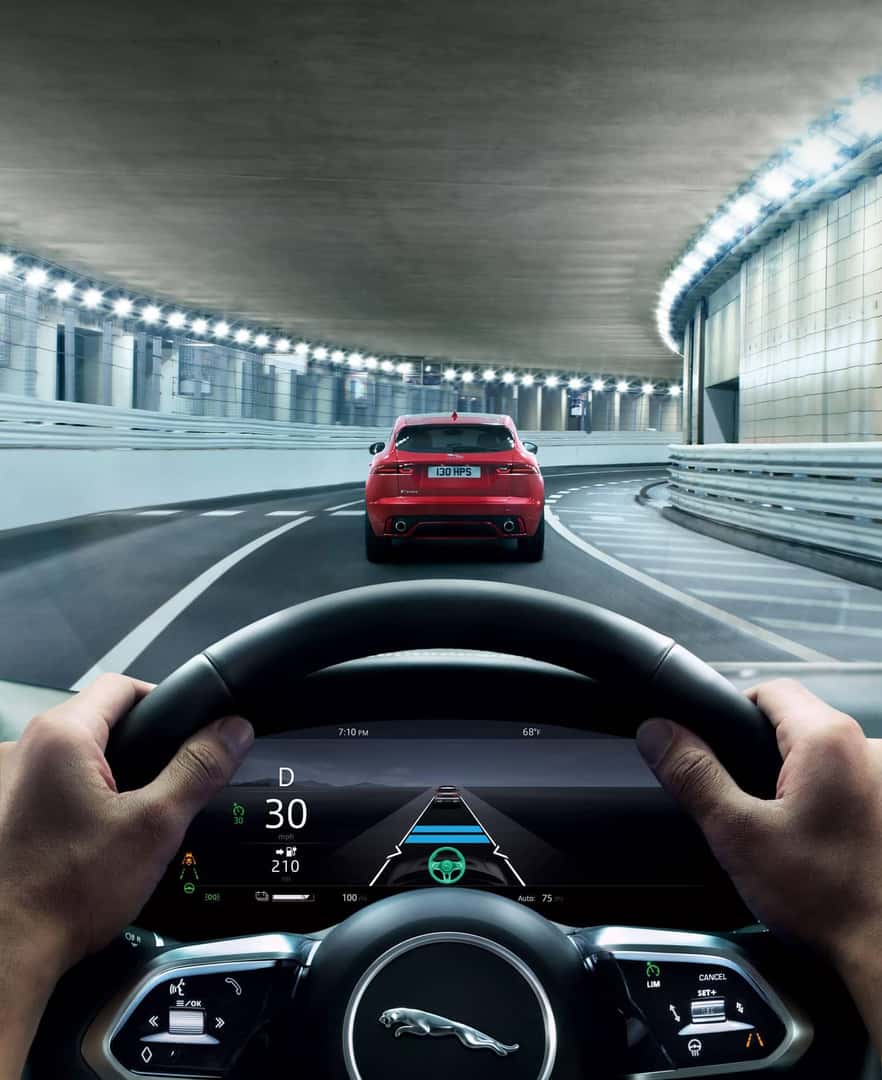 Navigate Smarter
For drivers who need a little help with directions, Jaguar's optional Connected Navigation Pro can help drivers reach their destination more relaxed. This feature provides real-time traffic reports, door-to-door directions in both satellite and street views, automatically updates contacts with your ETA and provides parking availability.
Bring Music to Life
With Meridian™Audio, your favorite song will never sound better. Whether you opt for the deep bass of the 380-watt or the open clarity of the 825-watt surround system, the rhythms and dynamics will flow through the interior with poise.
Smartphone Pack
Don't leave your favorite sidekick (your phone) behind in your new Jaguar. Just screen-share with your InControl Infotainment system and stay connected to your smartphone while riding. Now you can access your favorite song, navigation features, calendars, and more. Both Android™ Auto and Apple CarPlay® are supported.
Fix Wi-Fi Dead Spots
When you plan to be on the road for a business or family road trip, you'll need a 4G Wi-Fi Hotspot. This powerful feature ensures everyone stays online and provides a Hotspot for in-vehicle internet access for up to eight devices at once!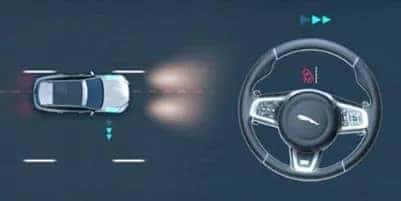 Stay Protected
When you choose a vehicle, you want to rest easy knowing that you and your passengers are secure at all times. With InControl Driver Assistance, you ensure the safest drive no matter where your journey takes you. This feature allows you to get instant access to Roadside Assistance or first responders should the unexpected happen.
Some of the additional safety features all Jaguar models come equipped with includes:
Emergency Braking – When you're driving and your car detects a potential collision, you will be alerted. If you don't brake, your brakes will automatically be engaged to prevent a possible accident.
Adaptive Cruise Control With Queue Assist – Just set your speed and the distance you want to maintain from other vehicles in front of you. Your car does the rest and automatically slows down based on traffic flow.
Lane Departure Warning and Lane Keep Assist – Lane Keep Assist ensures that you stay in the middle of your lane, even when you get distracted, by gently nudging you back to the center should you drift. A gentle vibration is also sent to your steering wheel to notify you.
Traffic Sign Recognition – When you're in the zone to get to your destination, it's easy to miss important road signs like speed limit signs. This display feature alerts you in your driver panel, so you'll never miss another one.
Driver Condition Monitor – If you're feeling tired, your Jaguar will be able to give you an early warning sign that you need to take a break.
Blind Spot Monitor – When another vehicle rapidly approaches your Jaguar's blind spot, you will be alerted by a flashing icon in the appropriate side mirror.
Learn What Your Jaguar Can Do
Handover Encore is a complimentary service that allows you to schedule an appointment with one of our Jaguar specialists to discover everything your new Jaguar can do. You get to sit down one-on-one with an expert and learn about your vehicle's features and technology. We know that finding free time is difficult. That's why you get to choose the location, home or work, and we will come to you! Don't miss this opportunity to learn how to take advantage of the technical aspects of your Jaguar from Bluetooth set-up, lane departure, or whatever aspects interest you most. Let Handover Encore help you get the most out of your new, technologically advanced vehicle throughout your ownership experience!
You have your sight set on something luxurious and high-performance, now it's time to pick the right dealership. Visit us at Jaguar South Shore, and we'll guarantee that you drive away in a new ride with the comfort and technology you deserve! Feel free to browse our new vehicle selection online as well as our pre-owned inventory. The best way to see which model packs the most power for you is to take a test drive! You can find us at 5781 Lincoln Highway in Crown Point, IN. We look forward to seeing you soon!